KONJEIHI WOMEN'S ENTERPRISE CENTRE GRAND OPENING VISIT TO GHANA
VISIT BARAKA IN GHANA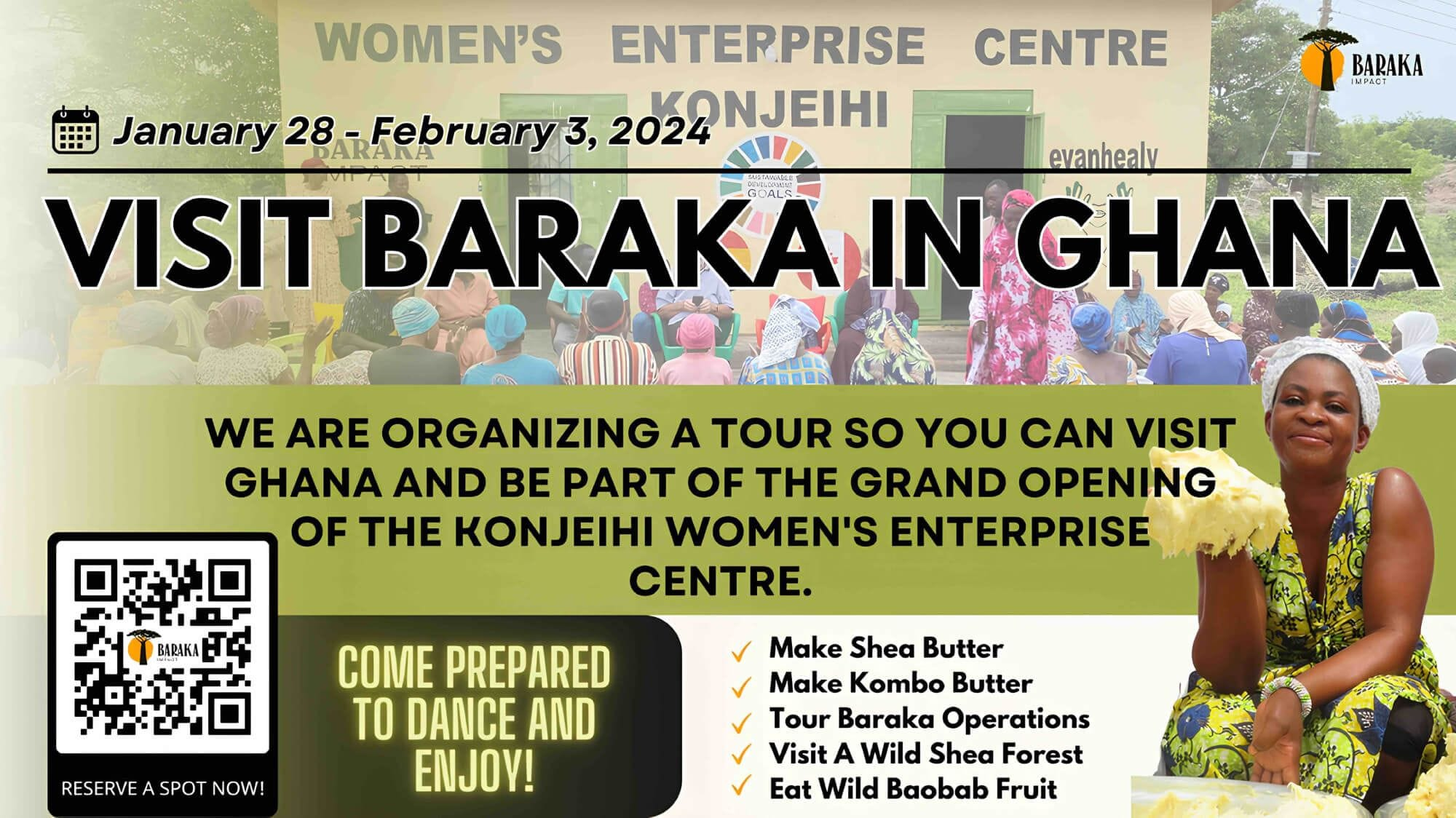 We are organizing a tour so you can visit Ghana and be part of the Grand Opening of the Konjeihi Women's Enterprise Centre. All costs (meals, ground transportation, local airfare, bus, wildlife safari, souvenir video, etc.) are included in the $3,000 USD cost. You are responsible for airfare to and from Accra as well as all visa and other costs. If you're expecting a flawless, 5-star experience every step of the way, this might not be the right fit. While we strive for excellence, occasional hiccups can happen, and circumstances may change. Rest assured, we're committed to providing attentive support throughout your journey, ensuring you have a fantastic experience. As for accommodations, you don't need to fret too much. I appreciate comfort as well. In Accra, we'll be staying at the
Alisa hotel
, which offers a comfortable stay. Our Safari lodge scores about 2.5 stars primarily due to the leisurely food service, but it's a place I personally cherish for its relaxation and ambiance. 🙂
Registration is limited to 20 participants.
Itinerary (subject to change)
Arrive in Accra Meet at airport and transport to hotel
(Alisa Hotel)
Local Activities (TBC) Wa Market Visit Visit to Shea Nut Picking Community Visit to
Wa Naa (Chief) Palace
Free time in Accra (Osu Market, Art Centre, etc.) depending on when your flight leaves Optional Add-on: excursion to
Cape Coast Slave Fort
(cost approx. $150, depending on number of participants) Note: Depending on the time of your departing flight you may need to stay an extra night as this will not return to Accra until around 6pm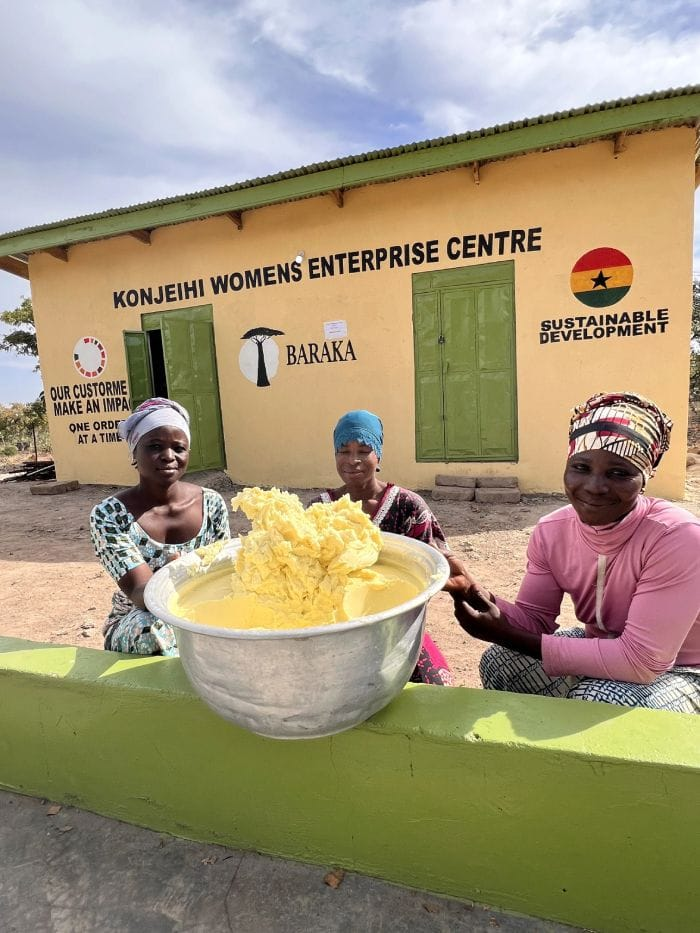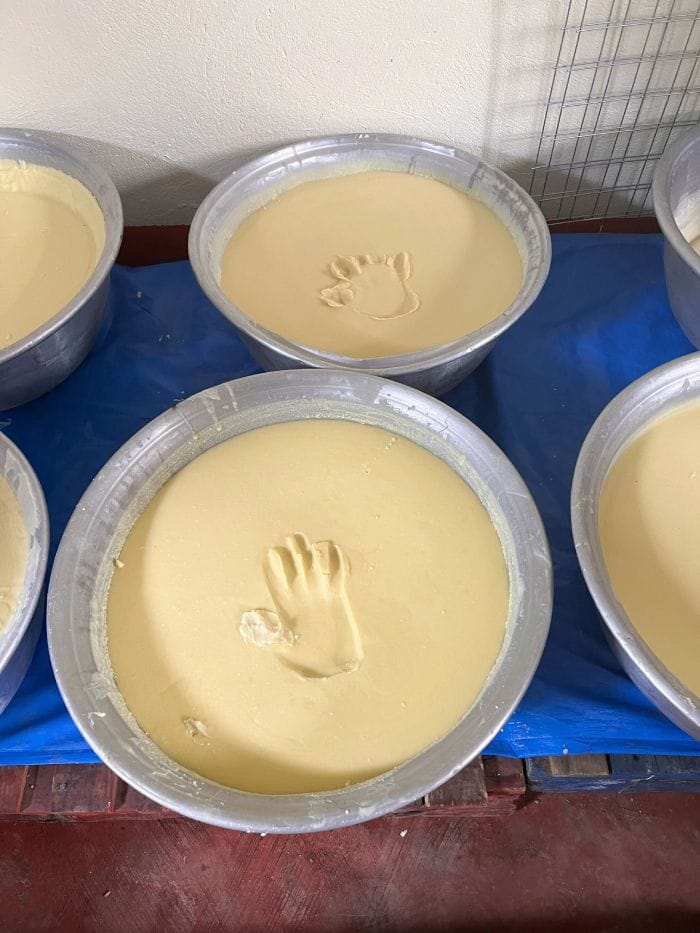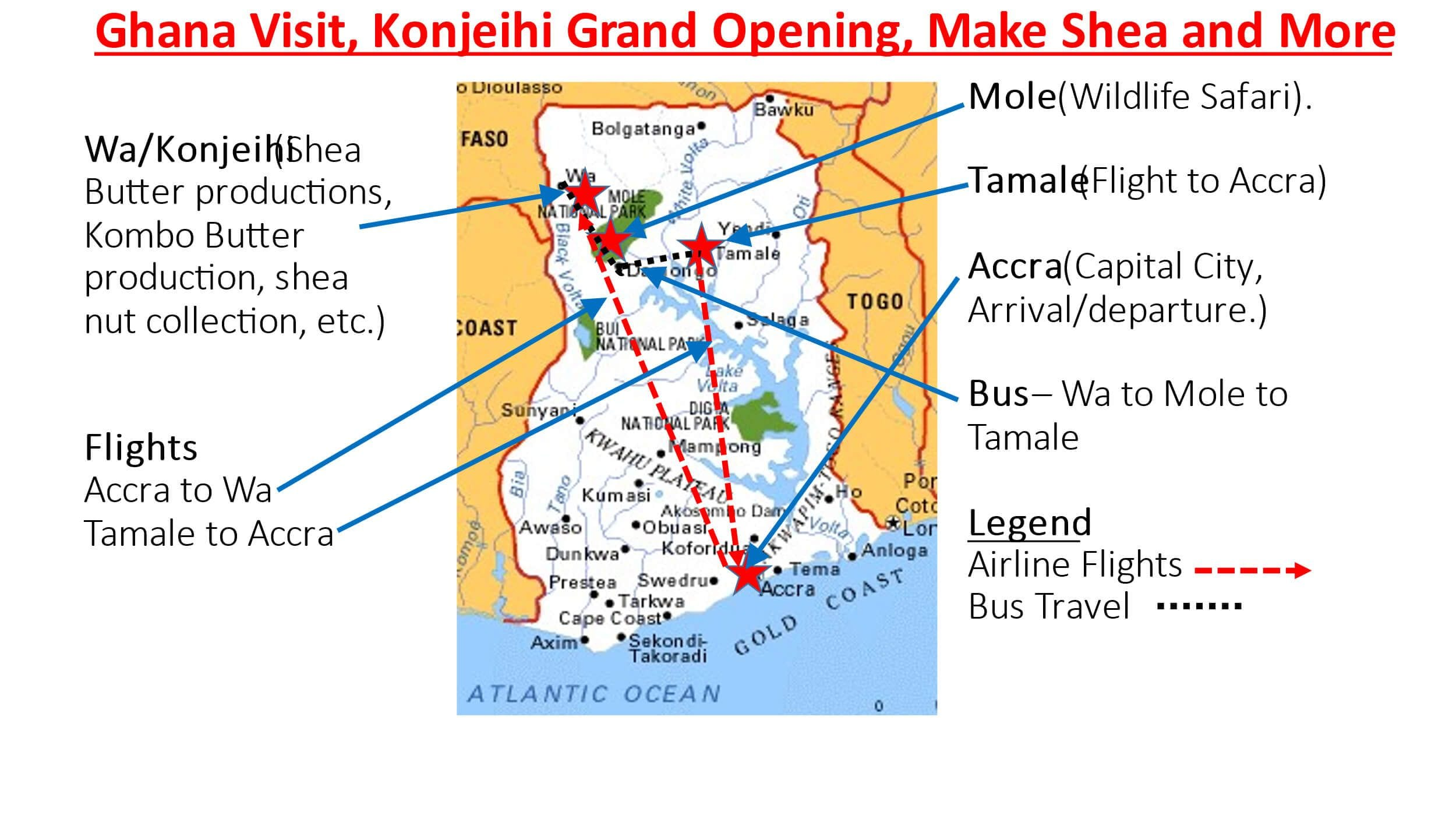 What's Included
•
Trip Cost: $3,000 USD ($1,500 Deposit, $1,500 by Dec 31,2023)
•
Cross country bus ride (Wa - Mole - Tamale)
•
Guided SafariAll meals, drinks, etc. (alcohol not included)
•
Konjeihi Women's Enterprise Centre Grand Opening
•
Ghana Tourist Visa Support
•
Professional Photographer/Videographer to accompany and capture the adventure (you will have access to all photos and videos)
NOTE: YOU WILL BE REQUIRED TO HAVE A YELLOW FEVER VACCINE TO ENTER GHANA. THIS APPLIES TO EVERYONE, INCLUDING GHANAIANS. YOU CAN GET IT AT THE AIRPORT ON ARRIVAL.
WE STRONGLY SUGGEST YOU CONSULT WITH A TRAVEL MEDICAL CLINIC REGARDING OTHER TRAVEL VACCINES YOU MAY WANT/NEED.
GOOD FOR YOU, GOOD FOR THE WOMEN, GOOD FOR THE ENVIRONMENT

Handmade

Natural
Cruelty Free

Chemical Free
COMMUNITY SOURCED
FAIR TRADE & WAGES
Sign Up
Be the first to get special offers and product knowledge - Straight to your inbox
Created using