Cocoa Butter with Cocoa Powder
Baraka Cocoa Butter with Cocoa Powder brings the best of both to your formulations.  Both the butter and the powder are well known for the skin care benefits they bring.  Combining them in one product makes it easier for formulations and gives your final creations that little extra that will make them stand out for your customers and users.
Cocoa Butter  and  Cocoa Powder  both come from the  Cocoa Bean  and are separated during the  extraction process .  There is something magical about recombining them in this new, Cocoa Butter product that has traces of Cocoa Powder in it.
It is important to note that the powder diminishes the cocoa smell giving the product a different aroma. All sales are final.
Both made from sustainably grown and community harvested cocoa beans and together they are a powerful duo!
Cocoa butter and powder is perfect to add to body lotions, butters and lip balms to deeply hydrate the skin. The combination of the two makes an even better formula!
Looking for some recipe inspiration? Check out our recipes featuring cocoa butter  here .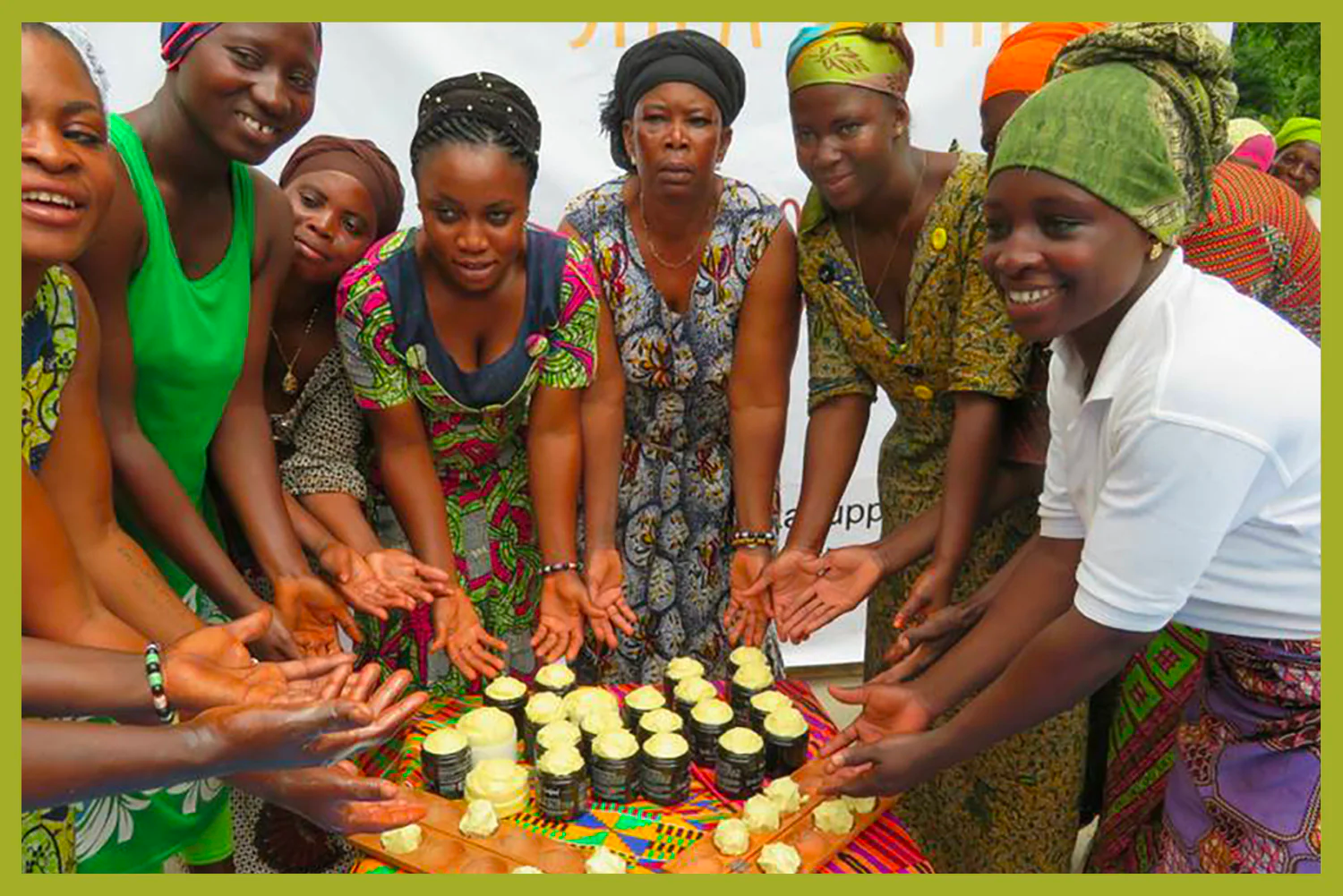 Handcrafted by women in Ghana using age-old techniques passed down through generations. Centuries of practice has taught them how to extract every bit of goodness from the shea nut, and that quality is now passed on in every package of shea butter and all the products made from it.
We ship worldwide from our fulfillment centre in North America. At checkout you can see shipping options and costs. If you would like to arrange your own shipping please select warehouse pickup and send us an email to confirm. We can provide you with shipping and pickup details for your courier of choice. We hope you love your Baraka products. If you are unsatisfied for any reason though, we offer no hassle returns with no time limit, just
contact us
.
THE COCOA BEAN STORY
Learn about the origin of our cocoa butter. Discover how the beans are grown and harvested by women in rural Ghanaian communities.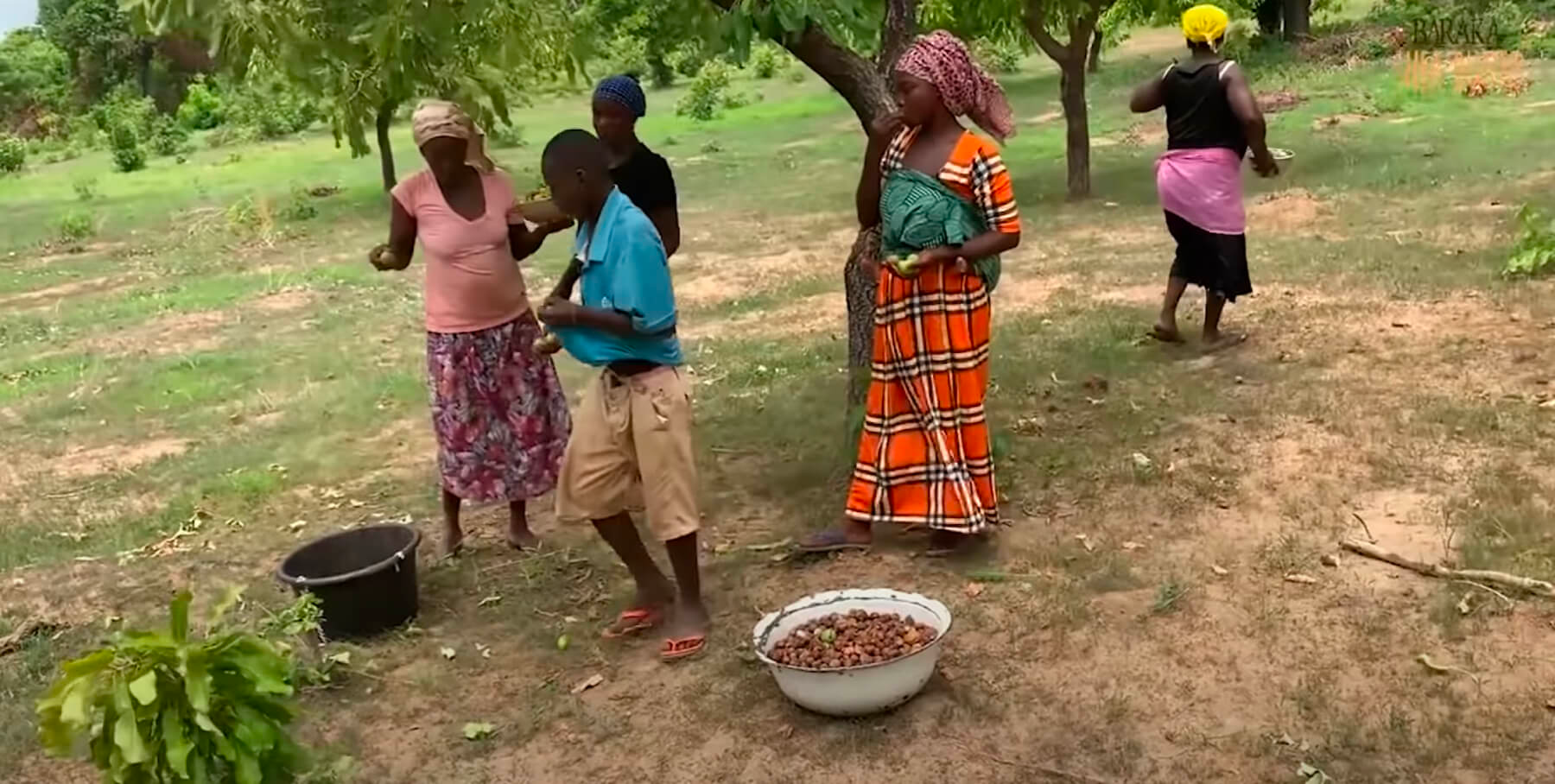 COCOA BUTTER & POWDER
FROM OUR HANDS TO YOURS
Our cocoa butter is made from small-holder grown, hand-harvested and processed cocoa beans. Each order gives the dignity of income to the hard-working women who harvest and prepare the beans that make our cocoa butter. For most families, this is the mainstay of their economy.
ALL NATURAL
No chemicals, additives, animal testing, or harsh industrial processing. Just pure, natural unrefined cocoa butter.
COMMUNITY IMPACT
Every time you purchase Baraka's cocoa butter you have a direct impact on the women, families, and communities in northern Ghana. Not only does your order provide the dignity of income to hardworking women but helps support educational and economic projects in the community.
BENEFITS
INTENSE HYDRATION
Cocoa butter has fantastic moisturizing qualities as it is rich in essential fatty acids that nourish and protect the skin.
The butter is able to deliver deep, lasting hydration that doesn't feel greasy or sticky, helping to keep your skin in its natural healthy balance.
IDEAL FOR SENSITIVE SKIN
This butter is one of the most stable fats known and has a reputation for being an excellent soothing ingredient for those with sensitive skin.
People with dry skin or eczema also need products that deliver lots of moisture to keep skin supple. Cocoa butter, with its intensive hydration properties, may be used to give skin a non-irritating moisture boost.
CONTAINS NATURAL ANTIOXIDANTS GIVING YOU A YOUTHFUL FLOW
Not only do the naturally occurring antioxidants in Cocoa butter keep the product fresher for longer, they also help to fight free radicals that can have a damaging effect on the skin.
The antioxidants present in skincare products like face washes help fight and reduce UV damage. Plus, it helps increase the blood flow to your skin and leaves it with a gorgeous flush and glow.
MAY HELP WITH ACNE
Thanks to its medicinal properties, one of the benefits of using cocoa powder for skin is that it helps treat acne or any sort of blemishes. Loaded with tannins, the anti-inflammatory properties reduce redness and soothes active acne spots. It also has the ability to reduce acne scars too.
Learn more about cocoa butter and powder by reading our blogs  here .
People Love our
Cocoa Butter with Cocoa Powder: Food Grade
GOOD FOR YOU, GOOD FOR THE WOMEN, GOOD FOR THE ENVIRONMENT

Handmade

Natural
Cruelty Free

Chemical Free
COMMUNITY SOURCED
FAIR TRADE & WAGES
Sign Up
Be the first to get special offers and product knowledge - Straight to your inbox
Created using